Alaska Remote Guide Service – April 24th
Hunt Specials!
Friends,
I have one late August sheep hunt left for 2017, that I have discounted to $16,000,00 including air charter fees! This is an excellent hunt with a top notch guide. See details below.  I also have a 10 day,  river hunt for brown bear  and/or moose available in late August or early September.  Price for one species starts at $14,000.00.   I do my home work and try to customize each hunt to your wants and abilities.  Contact me soon if you are interested or if you have any questions, and don't forget to like us on Facebook.
Now is the time to start planning for 2018!
Wayne Kubat,  Master Guide #147
• One Left! – Dall Sheep Hunt – 12 day, 1 x 1 = $19,000.00 16,000.00 Air charter fees are included. This is an excellent hunt with a very capable guide. We do most of our sheep hunting in my sole use guide concession in Denali Preserve.  We achieve very good success on above average rams and went 3 for 3 last year, but these hunts do require clients to be in very good physical condition. I have one opening from August 18th – 29th, 2017.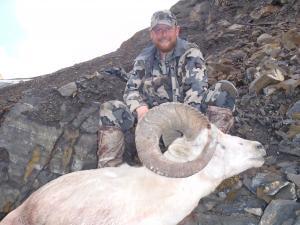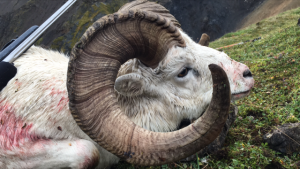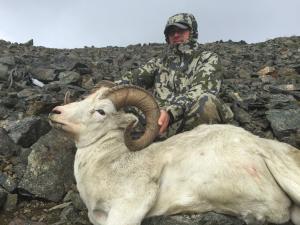 Depending on which area we hunt, brown bear can sometimes be hunted on a trophy fee basis for + $7000.00.
Ben W. from Pennsylvania
Wayne –After 20 years of hunting in several states, none in the lower 48 can compare to my "Alaska experience" with ARGS. I cannot say enough about yours and Marilyn's hospitality and willingness to go the extra mile to help me with my trip from start to finish. Thanks again. – BW
———————————————————–
10 day, River hunt for brown bear and/or moose  in late August or early September = $14,000.00 for one species + $1000.00 includes air charter fee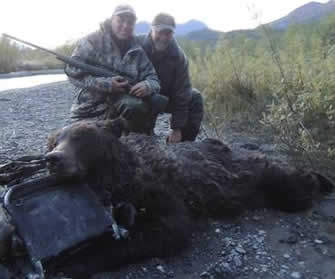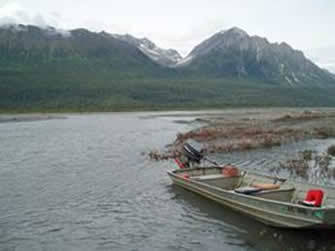 These are great Alaskan Adventure/ hunts.  While hunting for brown bear, you will also experience some of this great state's finest scenery – to include Mt. Denali and several other majestic Alaska Range peaks, however we will be "roughing it" for the most part.  We use light weight jet boats or rafts, spike out in tents, eat freeze dried, and travel light.   We are mobile, can cover a lot of ground, and will hunt hard. Trophy fee options for moose or a 2nd brown bear ($7000.00) are available.
Our website is now mobile friendly, and offers  a "click to call" button for mobile users. If you are considering booking a hunt and have any questions, we are now just a click away!   Because we don't take many hunts at once, we can usually provide flexibility on most offerings, to include extra days, combinations, etc. If you don't see what you are looking for above, chances are pretty good that we might be able to offer you something similar.
Notes:  We will pick you up and return you to Anchorage on most hunts.  Licenses and tags + a $150.00 Hunter Preservation Fee (http://alaskaprohunter.org/HPF.html), are additional.
We hope to hear from you soon!
Sincerely – Wayne Kubat dba Alaska Remote Guide Service
---
2018
•  Peak Rut Trophy Moose Hunt with brown bear option.  This Is a perfect hunt for friends or family – 2 (hunters) X 2 (guides) – September 16th – 26th, 2018 = $18,000.00 person + $1000.00/person air charter fee.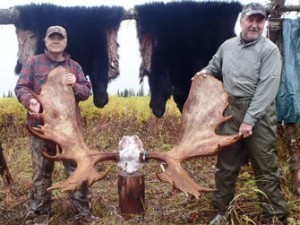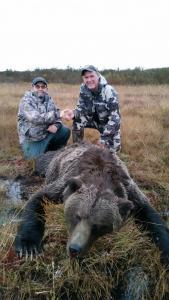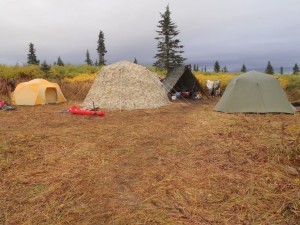 This is my very best moose hunt!  This hunt occurs above timberline via bush plane access, in a traditional rutting area with lots of big bulls and a very good brown bear population.   I've hunted this area since the late 80's and have achieved consistently high success. You and your friend or family member will hunt from your own camp.  If you take a brown bear too, there is a $7000.00 trophy fee.  FREE incidental black bear/ wolf or wolverine.
————————————–
PHOTOS
More Photos

Wayne Kubat dba Alaska Remote Guide Service / Alaska Master Guide License # 147
Work: 907-376-9568 / Cell: 907-355-8568